ITAD IT Asset Disposition Explained
OUR PROCESS

Decommissioning and deinstallation

Logistics

Data destruction and sanitization

Asset refurbishment and remarketing

Disposition and recycling

Reporting, auditing, and certification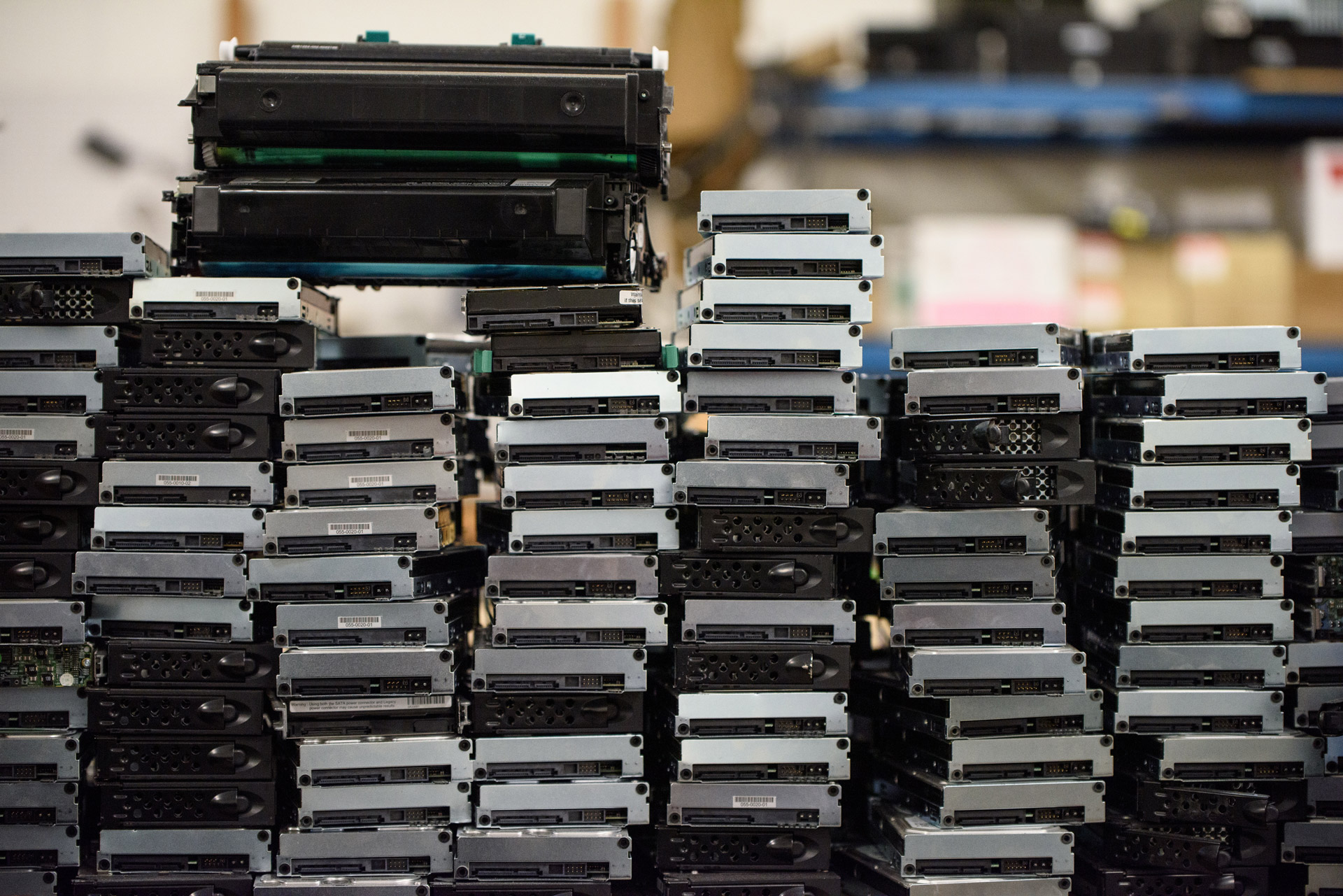 IT Asset Disposition
Replacing IT equipment isn't as simple as plugging in the new and throwing away the old. Businesses of all sizes need a solid IT asset disposition (ITAD) strategy to ensure that their old electronic equipment is disposed of in a safe, secure, and compliant way.
IT ASSET RECYCLING MAXIMIZES REUSE AND VALUE

According to WhatIs.com, ITAD is defined as the "disposing of obsolete or unwanted equipment in a safe and ecologically-responsible manner." A good ITAD provider will help you to do this while minimizing costs and maximizing the value of recycled or remarketed assets.
Plus, your old equipment contains sensitive information that could fall into the wrong hands if not disposed of properly. So another key function of ITAD is to destroy any data stored on obsolete equipment
So, ITAD encompasses the entire process of decommissioning and disposing of old IT equipment. It can be broken down into the following steps:
1. Decommissioning and Deinstallation


Before your new equipment can be installed, your old assets need to be removed from service. Each device needs to be inventoried, uninstalled, and removed from access to the network. For some devices, this is a technical process handled by your IT staff, while other equipment can be decommissioned by your ITAD service provider. In either case, the devices to be removed need to be inventoried and accounted for throughout the ITAD process.
2. ITAD Logistics


Once the old equipment is removed, it needs to be securely transferred from your location to a recycling facility. This is potentially the riskiest part of the process, since all equipment needs to be accounted for -- any missing equipment could be the source of a data breach. So choose an ITAD provider who can provide you with end-to-end tracking at the asset level.
3. Data Destruction and Sanitization


Before your equipment goes any further in the disposition process, it needs to be wiped of all sensitive data -- and you need verification that this sanitization has actually been carried out. The actual data destruction can take a variety of forms, including hard drive shredding, degaussing, or secure erasure. Make sure that your ITAD provider has the expertise necessary to choose the correct method for each piece of equipment to be destroyed.
And if you're operating in a regulation-heavy sector, like healthcare or finance, be sure that your ITAD procedures are in line with the relevant laws and regulations, and that your ITAD partner is able to help you conform with those regulations as well.
4. Asset Refurbishment and Remarketing


In many cases, your IT assets still have some life left in them. Reselling this equipment is an excellent way to reclaim some value and offset costs. Your ITAD provider can help you do this by refurbishing assets and marketing them to various resale outlets. They should also be able to provide you with reports, giving you visibility into this part of the process.
5. Disposition and Recycling


Not all of your equipment will be in a condition to refurbish and resell, so it will need to be recycled. This is where you'll really see the value of a full-service ITAD provider. They'll be able to recycle your equipment in accordance with strict state and federal regulations, helping to protect both the environment and your business. Look for ITAD providers who hold certifications like R2 -- showing their compliance with the latest industry-standard practices.
6. ITAD Reporting, Auditing and Certification


Throughout the ITAD process, you'll want the peace of mind that comes from a fully transparent paper trail. From removal to recycling, your ITAD provider should be able to provide you with auditing and reporting down to the individual item level. This will help you ensure regulatory compliance with legislation such as HIPPA, SOX and GLBA, as well as industry regulations such as PCI-DSS. Plus, with more and more states enacting strict e-waste recycling laws, you'll have assurance that your IT assets were disposed of in full compliance with environmental regulations.
If you're looking for a trusted partner to handle your business's ITAD needs, look no further than CyberCrunch. Our data destruction and recycling experts are ready to handle your IT end-of-life and decommissioning processes.
DON'T LET YOUR UNWANTED DEVICES, AND THE SENSITIVE
PERSONAL IDENTIFYING AND FINANCIAL DATA THEY CONTAIN, FALL
INTO THE HANDS OF CYBER CRIMINALS.

Testimonials
---
I just wanted to let you know that Gary was wonderful to work with today!  He's such a professional – he made this super easy for us!
Easy to schedule pickup.  The guys that came to pick up equipment were nice and picked up all containers along with a few heavier items that we couldn't get into the container.  The company provided tracking for trucks and arrived when promised.  Everything handled professionally.
Great service. Scheduled online and you were here the next day. Thanks again!
David
Manager
Thanks for helping us set up the disposal this morning, The guys that came were great and we got everything removed!
Brittany
Sustainability Manager
The materials were picked up. Service from driver was excellent. I know you will send an invoice. I look forward to working with you again.
Paul
Analyst
Recycling & Destruction that is Safe, Secure and Simple
Schedule Pickup
Easy online scheduling services and instant online quotes for your equipment pickup.
Material is Picked Up
Our trained staff arrives at your location to transport your equipment to our secure facility.
Material is Recycled and Data is Destroyed
Your equipment is recycled and data is 100% destroyed.
Certificate Issued
Certificate of recycling and optional serialized certificate of destruction issued.
CyberCrunch Is Trusted By
DON'T BE A DATA BREACH STATISTIC.
Identity theft is here to stay
Take steps to safeguard your data now so you don't worry later
Data Breaches In The Past Year
---
Compliance & Certifications
---