Data Destruction Hard drive shredding explained by CyberCrunch
Data destruction involves more than just deleting files or formatting a hard drive. It means making data completely unreadable so that it cannot be recovered.
According to TechTarget, data destruction is defined as "the process of destroying data stored on tapes, hard disks and other forms of electronic media so that it is completely unreadable and cannot be accessed or used for unauthorized purposes.
"Electronic media" can include traditional spinning platter hard drives and magnetic tapes, but it also includes a diverse array of other types of storage devices, including solid state drives, removable flash memory, USB drives, CDs, and storage built in to things like industrial control devices and printers.
Each one of these devices requires a different data destruction method to ensure that the data has actually been rendered unreadable. Let's look at a few of these techniques to find out how they work and when they should be used, as well as some of the pitfalls that can prevent these techniques from being successful.
Data Destruction vs. Deletion or Formatting

In most cases, simply deleting data does not actually destroy it. Rather, the device simply "forgets" where the data is located. Data that is deleted without being destroyed can easily be recovered by using commonly available "Undelete" utilities.
The same principle applies to hard drive formatting. Formatting a hard drive only removes the "map" that tells the computer how to access the data on the drive. Many freely available utilities can easily reconstruct this map and recover nearly all of the data stored on an improperly formatted hard drive.
So, for data destruction to be successful, more is required to both remove the data and verify that it has actually been rendered unreadable.
Data Destruction Technique: Wiping

Data wiping is one of the most common data destruction techniques. It involves overwriting the storage media with random data multiple times. This ensures that the data is completely destroyed and not recoverable even with sophisticated methods such as electron microscopes. And it has the added benefit of leaving the device intact for reuse or resale. However, for wiping to be successful as a data destruction technique, it needs to be verified. This involves reading back all sectors on the storage media to ensure that they have actually been overwritten.
Additionally, this technique only works on traditional spinning platter hard disks. Solid state drives that use flash media store data in a different way that makes traditional wiping unreliable.  In one study, 10 out of 14 solid state drives that were "sanitized" were found to still contain some readable data -- and in two cases, 100% of the data on the drive remained intact.
Data Destruction Technique: Degaussing

Degaussing involves using powerful magnets to destroy the magnetic fields that hold data on media such as hard drives and tape. This is an efficient way to destroy data on these types of devices, as media can be fed through a degausser in bulk.
However, as the name implies, degaussing only works on magnetic media. CDs and flash-based storage are unaffected by magnetic fields, and so feeding them through a degausser will not destroy the data contained on them. And with the introduction of of solid state hybrid drives (SSHDs) and large flash-based caches on spinning platter hard drives, a degausser may not be able to destroy 100% of the data on a spinning platter drive.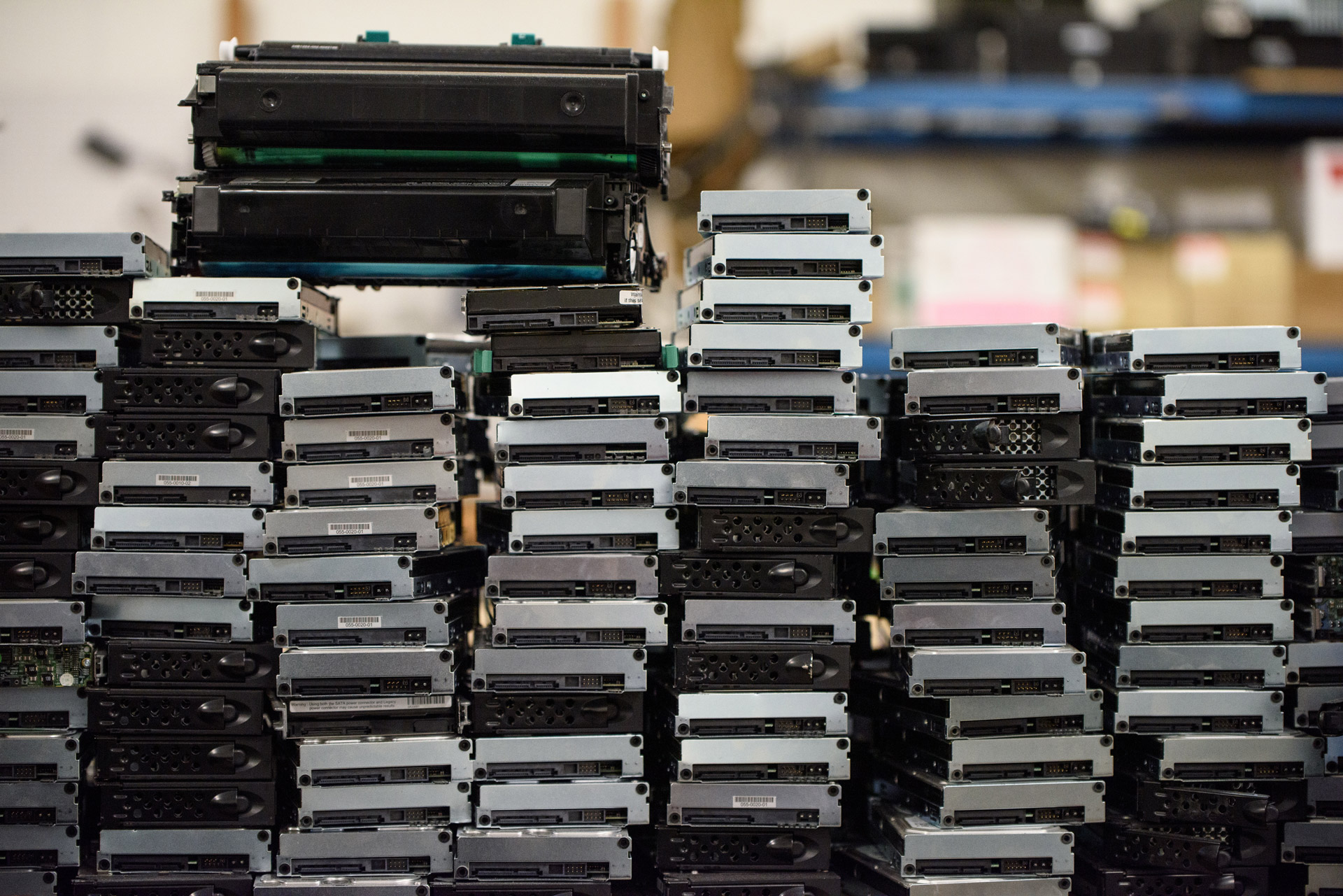 Data Destruction Technique: Hard Drive Shredding

Many companies have resorted to "DIY destruction" techniques, including disassembling hard drives, smashing them with a hammer, drilling holes in them, or even shooting them. In addition to the safety issues involved, these techniques can leave data intact. Commercial data recovery services are able to recover information from hard drives that have been burnt, dropped, soaked in water, or otherwise mangled. And flash storage chips can be so small as to escape destruction, also leaving data behind.
So physical destruction as a data destruction technique needs to reduce media to a size where nothing can be recovered -- down to ¾", or even less for high security applications. This requires high-powered commercial shredding equipment and trained personnel to operate it.
As we've seen, data destruction isn't as simple as deleting files or formatting hard drives. To be able to guarantee that data is completely unrecoverable, leave data destruction to the experts.
The data destruction experts at CyberCrunch are ready to help you dispose of your old hard drives, magnetic tape, and solid state media -- ensuring that all of your sensitive data is unreadable and unrecoverable. Contact us today for a free data destruction consultation.
Testimonials
---
I just wanted to let you know that Gary was wonderful to work with today!  He's such a professional – he made this super easy for us!
Easy to schedule pickup.  The guys that came to pick up equipment were nice and picked up all containers along with a few heavier items that we couldn't get into the container.  The company provided tracking for trucks and arrived when promised.  Everything handled professionally.
Great service. Scheduled online and you were here the next day. Thanks again!
David
Manager
Thanks for helping us set up the disposal this morning, The guys that came were great and we got everything removed!
Brittany
Sustainability Manager
The materials were picked up. Service from driver was excellent. I know you will send an invoice. I look forward to working with you again.
Paul
Analyst
Recycling & Destruction that is Safe, Secure and Simple
Schedule Pickup
Easy online scheduling services and instant online quotes for your equipment pickup.
Material is Picked Up
Our trained staff arrives at your location to transport your equipment to our secure facility.
Material is Recycled and Data is Destroyed
Your equipment is recycled and data is 100% destroyed.
Certificate Issued
Certificate of recycling and optional serialized certificate of destruction issued.
CyberCrunch Is Trusted By
DON'T BE A DATA BREACH STATISTIC.
Identity theft is here to stay
Take steps to safeguard your data now so you don't worry later
Data Breaches In The Past Year
---
Compliance & Certifications
---