PCI COMPLIANT RECYCLING AND DATA DESTRUCTION
Secure and Sustainable Solutions for Protecting Sensitive Financial Data
IT Asset Disposition (ITAD) for PCI Compliance
Securely disposing of electronic devices and equipment containing sensitive information is a key aspect of maintaining PCI compliance. At CyberCrunch, we offer IT Asset Disposition (ITAD) services that ensure your IT assets are handled and disposed of in accordance with PCI regulations. Our ITAD services include secure transport and handling, data destruction using NIST standards, and environmentally responsible recycling.
Our team of experts is well-versed in PCI compliance and can help you navigate the complexities of securely disposing of sensitive data. With CyberCrunch as your partner in ITAD, you can have peace of mind knowing that your IT assets are being handled securely and responsibly.
---
PCI COMPLIANT RECYCLING SERVICES
At CyberCrunch, we offer PCI compliant recycling services to help your organization safely and responsibly dispose of your IT assets. Our recycling process follows all necessary PCI compliance guidelines and ensures that your sensitive data is completely destroyed before recycling takes place. Here are some of the benefits of working with us:
Secure transport and handling of IT assets
Data destruction using NIST standards
Environmentally responsible recycling
Compliance with PCI DSS regulations
Flexible service options to meet your organization's needs
---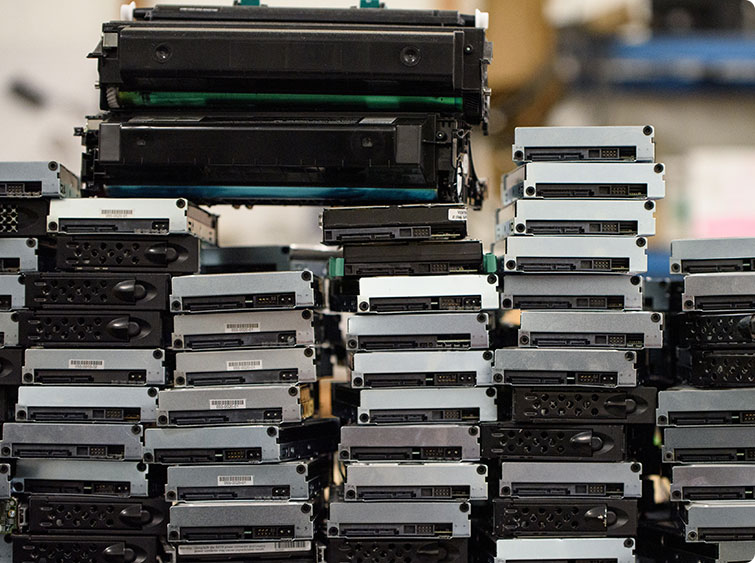 ---
PCI COMPLIANT DATA DESTRUCTION
When it comes to PCI compliance, data destruction is a critical component of protecting sensitive financial information. CyberCrunch offers PCI compliant data destruction services that ensure your organization's data is disposed of securely and in compliance with regulations.
Our team of experts uses a variety of methods, including on-site and off-site shredding, degaussing, and wiping, to ensure that your data is destroyed beyond recovery. We also provide a Certificate of Destruction to verify that your data has been properly disposed of.
Working with CyberCrunch for PCI compliant data destruction gives you peace of mind knowing that your organization's sensitive information is being handled and disposed of securely. Our services are designed to meet or exceed PCI guidelines, providing you with the assurance you need to focus on your business operations.
---
Environmental Responsibility and PCI Compliance
At CyberCrunch, we are committed to not only ensuring that our clients meet PCI compliance standards, but also to promoting environmental responsibility. We believe that it is possible to achieve both of these goals simultaneously, and we have taken steps to ensure that our services reflect this commitment.
Our recycling and data destruction processes are designed with environmental responsibility in mind. We make sure that all of the materials we process are disposed of in a manner that meets or exceeds environmental regulations, and we prioritize responsible recycling practices that minimize our impact on the environment.
---
Testimonials
---
I just wanted to let you know that Gary was wonderful to work with today!  He's such a professional – he made this super easy for us!
Easy to schedule pickup.  The guys that came to pick up equipment were nice and picked up all containers along with a few heavier items that we couldn't get into the container.  The company provided tracking for trucks and arrived when promised.  Everything handled professionally.
Great service. Scheduled online and you were here the next day. Thanks again!
David
Manager
Thanks for helping us set up the disposal this morning, The guys that came were great and we got everything removed!
Brittany
Sustainability Manager
The materials were picked up. Service from driver was excellent. I know you will send an invoice. I look forward to working with you again.
Paul
Analyst
Safe, Secure, and Simple Recycling & Destruction
CyberCrunch Is Trusted By
Protect Your Enterprise from Data Breaches
The Ever-Present Threat of Data Breaches
Safeguard your sensitive corporate data to mitigate risks and maintain compliance.
Records Exposed in Enterprise Data Breaches
---
Corporate Data Breaches in the Past Year
---
Cost of Data Breaches for Businesses
---
---
COMPLIANCE & CERTIFICATIONS
At CyberCrunch, we take compliance and certifications seriously. We are certified in the following areas to provide you with peace of mind when it comes to disposing of your business's electronics:
---
HIPAA Compliance
Protecting sensitive patient data in the healthcare industry.
PCI Compliance
Complying with the Payment Card Industry Data Security Standard (PCI DSS) to protect your business's credit card data.
GDPR Compliance
Complying with the General Data Protection Regulation (GDPR) to protect individuals' privacy rights.
R2 Certified Recycling**
Adhering to the highest standards of responsible electronics recycling.
NAID-AAA Data Destruction**
Following strict protocols for data destruction to protect your business's sensitive information.
---
We also provide fully insured electronic recycling services, including cyber insurance, to give you peace of mind when disposing of your business's electronics. Our insurance covers the entire recycling process, from pickup to final disposal, protecting both your business and the environment.
Contact us today to learn more about how our iTAD services can benefit your business and ensure that your data and electronics are handled responsibly and securely.
**CyberCrunch Greensburg, PA facility is certified to R2V3, RIOS, & NAID-AAA