In this month's newsletter, you'll get a glimpse into our most recent identity theft and data destruction event—along with some tips to protect your data this holiday season. Plus, find out what you can learn from a recent medical data breach involving over 100,000 patients.
CyberCrunch and S&T Bank Partner to Protect Your Data
On October 28, the CyberCrunch team partnered with S&T Bank in Indiana, PA, to help keep the bank's customers secure. During this event focused on protecting against identity theft, we collected over one ton of e-waste, including old computers, cell phones, and more. We will securely wipe and recycle all of it using our environmentally friendly, landfill-free process.
Check out the photo gallery below: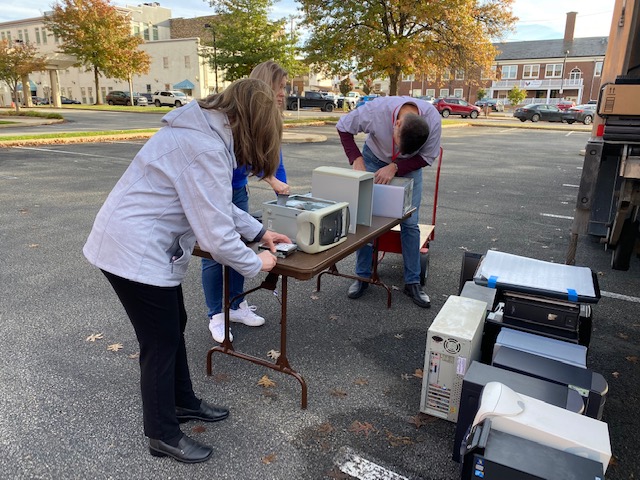 If you're getting a new computer or cell phone this holiday season, don't just throw out your old one. Not only is it bad for the environment, it can leave your personal data at risk. First, securely erase the old device, then contact the manufacturer for recycling information. Or, watch our social media for the location of our next partner recycling event.
Medical Data Breach Caused by Improper Hard Drive Disposal
In September, Maine-based HealthReach Community Health Centers notified the attorney general's office that the personal information of more than 116,000 patients had been exposed in a data breach. The information includes names, dates of birth, social security numbers, financial information and medical records.
According to reports, the breach was caused when a worker at a third-party data storage facility improperly disposed of hard drives containing patient data. Per HIPAA requirements, storage devices containing protected health information (PHI) must be properly sanitized or destroyed before disposal. Failing to do so could mean the organization could face hundreds of thousands of dollars in fines, as well as class-action lawsuits that could lead to further penalties if negligence was shown.
This is not the first time a company has faced serious problems from a third-party vendor's practices. If you need to comply with HIPAA or other stringent regulations, make sure you use vendors that both understand the regulations and have the capability to protect your organization.
CyberCrunch can protect you from fines and lawsuits with our NAID AAA Certified data destruction services. Work with our experts to develop a data destruction program that keeps you secure and compliant with HIPAA, PCI-DSS, and more. Contact us today for your free consultation.