Welcome to the CyberCrunch July newsletter! In this issue, we've got some exciting news about some recent growth. Plus, you'll learn about why SSDs need special treatment — and how CyberCrunch can help you make sure you're not leaving data behind.
CyberCrunch Expands PA Locations
CyberCrunch is growing — and that means adding more space to service the needs of our customers. We're pleased to announce that we recently added 30% more square footage to both our Greensburg and Aston, PA locations.
That means 30% more capacity to help you destroy data, recycle unused electronics, and protect your business from cybercrime and data theft. Part of this expansion is dedicated to serving our global customers. No matter where in the world you are, we can help you stay secure and compliant. Contact us today for more details about our national and international services.
Why SSDs and Hard Drives Must Be Treated Differently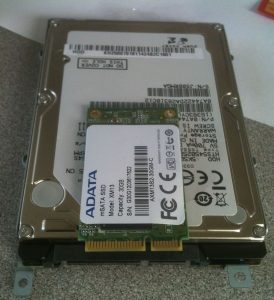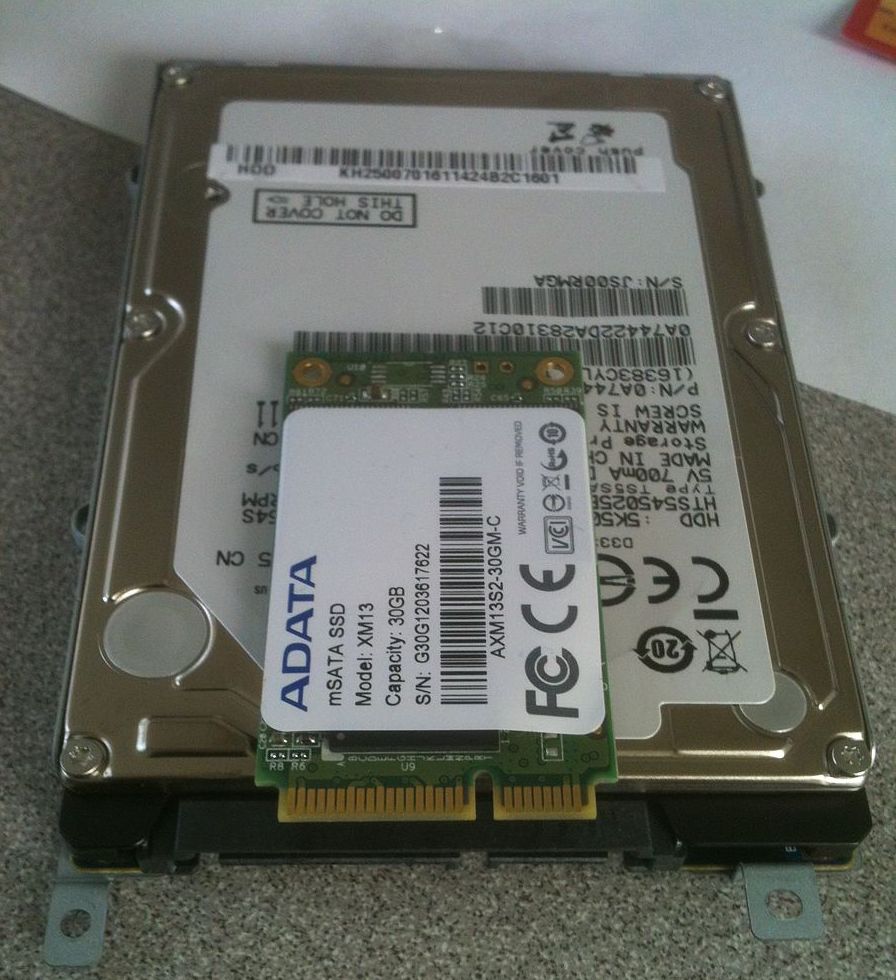 Solid state drives (SSDs) are ubiquitous in computers and even servers nowadays. Their small size, power efficiency, and speed – combined with ever-falling prices – mean that when your hardware is at end-of-life, you may have just as many SSDs as spinning platter drives to recycle, if not more.
But just because they may look the same doesn't mean that you should put them all in the same pile for disposal. SSDs have some important differences from hard drives that mean that they need special treatment to effectively destroy data contained on them.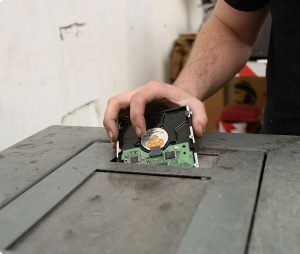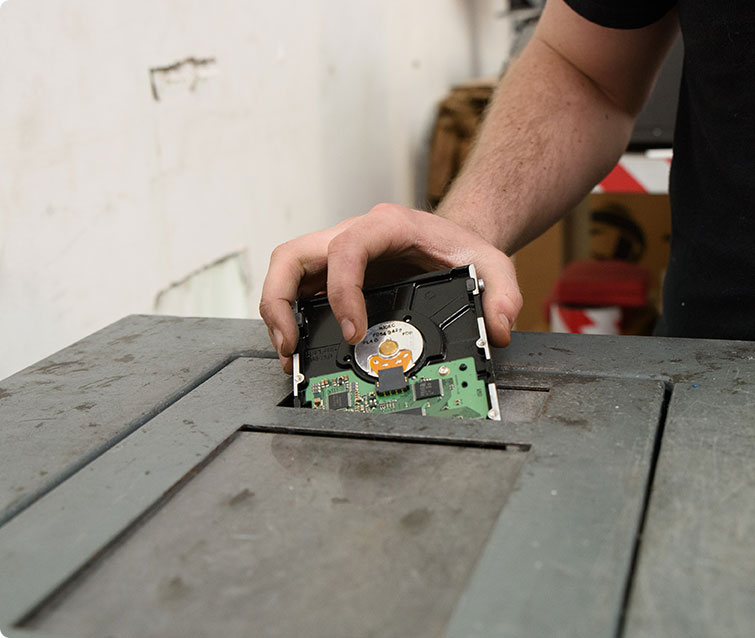 SSDs store data differently than hard drives. Rather than storing data in orderly patterns on a spinning platter, SSDs can store data randomly across their memory chips. This means that common software used to "wipe" hard drives has no effect on SSDs and can leave data behind.
SSDs are smaller than hard drives. Even if an SSD has the same form factor as a 2.5" hard drive, just a small fraction of that space may contain the actual memory chips. We've seen SSDs that have been completely drilled through without damaging the solid state chips whatsoever. This means that physically destroying SSDs requires special attention to destroy the chips.
SSDs are more durable than hard drives. Along the same lines, physical damage that would render a hard drive unreadable could leave an SSD completely intact. Because they don't have moving parts or fragile ceramic platters, SSDs can be hit, dropped, and even shredded without damaging data on them. Only pulverizers capable of reducing an SSD to very fine particles can 100% guarantee destruction.
Cyber 10G Pulverizer
CyberCrunch has the tools and expertise necessary to guarantee that your recycling-bound SSDs are properly erased or destroyed. We offer two special processes that will keep your data protected:
Our proprietary, NAID-certified SSD wiping process erases all data on an SSD and then verifies that it is actually gone.
Our pulverizing process featuring the new Cyber 10G™ Mobile Pulverizer can reduce solid state media to 2mm particles — fine enough for even the highest security applications.
Don't leave your data destruction to chance. Contact CyberCrunch today for a free data destruction and recycling quote.
Meet the CyberCrunch Team: Sean Heard, Marketing Intern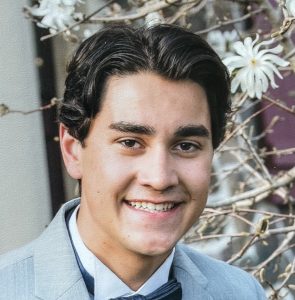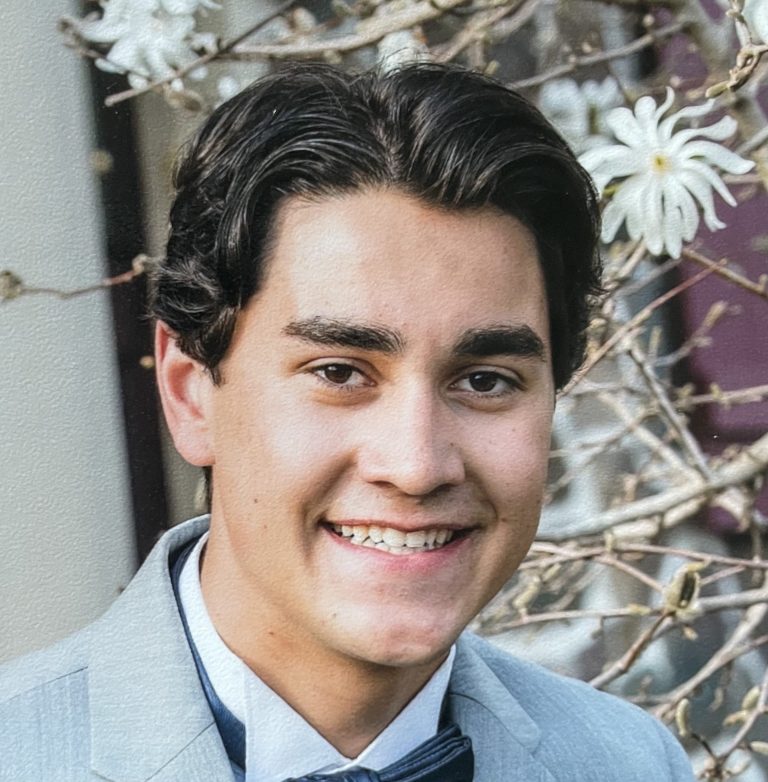 We'd like to introduce you to the newest member of the CyberCrunch team. Sean will be a junior at La Salle University in Philadelphia with a major in marketing and a minor in information technology. He is helping our sales and marketing team with various online and offline efforts.
Sean has a love for ice hockey and fishing, so when he's not attending school or building campaigns, you'll find him on the rink or on the water.
"I may only be going into my junior year, but so far I have learned a lot," Sean says. "I can't wait to see what the rest of the summer has in store for me!"